Florida's Supreme Court May Overturn the Death Sentences of 400 Prisoners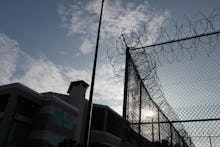 Months after the United States Supreme Court ruled Florida's death-sentencing process unconstitutional, the state's judges are evaluating what the decision means for the hundreds of inmates who remain on death row.
According to the Washington Post, Florida's highest court has been hearing arguments for the case of convicted felon Timothy Lee Hurst, who received the death penalty for the 1998 murder of his coworker Cynthia Harrison. Hurt's criminal case was central to SCOTUS' January ruling, when Justice Sonia Sotomayor said the judge's power to veto the jury's sentencing made it a violation of the Sixth Amendment. 
Read more: The Death Penalty Rate in the US Is on the Decline — Here's Why
On these grounds, Hurst's lawyers argued on Thursday for their client's death sentence to be reduced to life in prison. Should Florida's Supreme Court justices rule in favor of Hurst, nearly 400 other prisoners could have their sentences overturned as well.
"We're looking at potentially the largest number of death sentences being vacated at a single time," the Death Penalty Information Center's executive director Robert Dunham told the Post. 
Florida Attorney General Pam Bondi clarified that though the protocol for issuing a death sentence has been deemed unconstitutional, it is not to say the state's entire death penalty is unconstitutional. 
The state doesn't intend to reduce an inmate's sentence, Bondi said, "any time any aspect of the statute is held to be unconstitutional." And it's still up for debate whether the ruling would retroactively clear all current death row inmates. 
Former Florida judge O.H. Eaton Jr. said it's difficult to foresee how the pending ruling on Hurst's case would impact other death row inmates, telling the Post, "It could be anything from a minor effect all the way to clearing out death row."