Radiohead Drops An Incredible Video 'Daydreaming,' Announces the Release Date for Album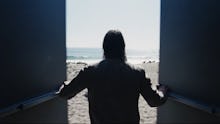 After more than five years of silence, this week Radiohead snuck back into our lives in the strangest way. Sunday, the forefathers of all that is ethereal and strange in popular music wiped their entire internet presence clean. Tuesday, they broke that seal with a new video, "Burn the Witch." Before their long-dormant fanbase had time to tease out all of the claymation video's cryptic meanings, the band has already hit fans with another one — "Daydreaming," along with a huge announcement.
Read more: Radiohead Shares "Burn the Witch" Music Video, the Group's First in 5 Years
In one tweet, Radiohead shared a teaser for the video along with news that they will digitally release their ninth studio album on May 8. Their website got even more specific: 7 p.m. British time, or 2 p.m. Eastern. It's almost too good to be true. In 48 hours we will have a new Radiohead album.
Radiohead's last studio album, the King of Limbs, was released in 2011; their forthcoming album marks the band's return after a five-year hiatus. 
Independent filmmaker Paul Thomas Anderson — known for such movies as There Will Be Blood and Magnolia — directed the more-than-six-minute "Daydreaming" music video. The video shows lead singer Thom Yorke exploring a series of hallways that link a hospital, a laundromat and a beach. The surreal architecture evokes a sense of transcendence often associated with daydreaming. 
Hours before the band's formal Twitter announcement, they released a teaser of the video early Friday morning via Instagram.
While the album's name is yet to be revealed, many Radiohead fans believe Dawn Chorus is a possibility — named after a company the band recently created. It's also the name of a song Yorke mentioned in a 2009 interview. 
Watch the full music video below.