Calvin Harris Concert Tickets Charge Men 87% More — Is It Sexist or Feminist?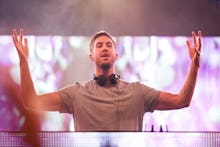 Men who want to attend Scotland-native DJ Calvin Harris' May 13 show at Las Vegas' Omnia nightclub will have to pay up to 87.5% more than women, according to the Telegraph. One pre-sale general admission ticket for a woman costs $40, but one for a man is nearly double, costing $75, according to Omnia's website. For VIP, women's tickets are $115 while men's cost $150 — about a 30% hike. 
The reason behind the gender price discrimination has yet to be officially disclosed by Harris. But the Omnia website said it's "in order to benefit from our flexible check-in and transfer policy."
People are seemingly divided, some think it sexist, calling it a method of enticing more women into the club — which in turn will probably entice more men — Nylon reported. Others see it as feminist, considering it a response to either the gender pay gap or the "pink tax," in which female products cost more than male products, according to the Telegraph.
Others note that the higher cost of entry for men is actually not that outlandish. "We often hear that it is women who pay more for the same things," Martin Daubney, a men's issues commentator, told the Telegraph. "But it is actually routine for men to get charged more to get into night clubs."
Although a few states, such as California and Maryland, have banned gender price discrimination when it comes to these nighttime discounts, aka "ladies' nights," Nevada is not one of them.
Mic has yet to hear back from either Harris or Omnia regarding the pricing policy. 
Read more: The Secret Tax Screwing Women Out of Thousands of Dollars Over a Lifetime