Historian Has Finally Revealed the Mysterious Identity of the Man in the Iron Mask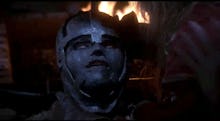 History professor Paul Sonnino at the University of California, Santa Barbara, says he's solved the centuries-old mystery of the Man in the Iron Mask. 
In Search for the Man in the Iron Mask: A Historical Detective Story, published in January, Sonnino details decades of research into the enigma of the French prisoner who was jailed from 1669 until his death in 1703, during which he concealed his identity with a mask. Sonnino argues the prisoner had been the valet of a very rich, very corrupt Cardinal — and knew one too many secrets. 
The legend was popularized in recent history with the 1998 film of the same name, starring Leonardo DiCaprio. But the story has captivated the imaginations of many for hundreds of years, including those of French philosopher Voltaire and French writer Alexandre Dumas.
Sonnino discredits the two Frenchmen's theory of who the man in the mask was — Louis XIV's twin brother — a theory largely disregarded amongst modern-day historians, he told the UCSB Current. While there is now historical consensus that the Man in the Iron Mask was a valet named Eustache Dauger, much else has remained unknown, leaving a number of burning questions like who he worked for and the circumstances behind his jailing.
Sonnino contends that Dauger was the valet for Cardinal Mazarin, a treasurer and principle minister of France in the early years of Louis XIV's reign.
"What I was able to determine was that Mazarin had ripped off some of his huge fortune from the previous king and queen of England, and that Eustache was arrested years later just as Louis XIV was trying to con their son, the present king of England, into joining him in a war," Sonnino told the Current. "Dauger must have blabbed at the wrong time. He was informed when arrested that if he revealed his identity to anyone he would immediately be killed."
This revisionist history certainly makes a compelling case for keeping your mouth shut.