Toms Founder Blake Mycoskie Wants You to Go Barefoot for 24 Hours For a Special Cause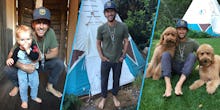 Most of us think of shoes as a fashion statement; we lust after Louboutins and snatch up Air Yeezys in a matter of minutes. But while we may take our footwear for granted, for children living in extreme poverty and without access to shoes, going barefoot can have dire consequences, from podiatric disease and injury to prohibiting the pursuit of education.
With this in mind, Toms founder and Chief Shoe Giver Blake Mycoskie, 39, has gone barefoot for 24 hours once a year for the last nine years as part of the annual One Day Without Shoes initiative, which aims to further Toms' mission through social media and awareness. 
The shoe brand, which Mycoskie founded in 2006 after meeting children in an Argentinian village who did not have shoes to wear, is known for its One for One policy. For every pair of shoes sold, Toms donates a pair to a child living in poverty. The goal of the annual One Day Without Shoes event is to raise awareness for what these children face.
"You realize very quickly how vulnerable you are without shoes. It inhibits your activities at every moment throughout the day," Mycoskie said an email. "[But] while we may be walking barefoot on pavement, the everyday reality for so many children is walking through rocky terrain, polluted environments or even freezing temperatures without proper foot protection."
One Day Without Shoes began nine years ago as the result of "one very passionate Toms advocate" who arranged a barefoot walk on his college campus. Since then, the event has grown into a worldwide phenomenon. Last year, the support was "overwhelming," Mycoskie said, thanks in part to the power of social media. 
Last year, when Toms said they would donate a pair of shoes for every barefoot photo posted on Instagram with the hashtag #WithoutShoes, thousands of people responded. Ultimately, 275,000 children received donated shoes as a result of the campaign. 
This year's One Day Without Shoes, which takes place today, May 10, not only marks Toms' 10th anniversary but, for each barefoot photo posted on Instagram with the #WithoutShoes hashtag, Toms will donate a pair of shoes to children in 10 countries — up to 100,000 total pairs, 10,000 in each country.
The initiative isn't just about photos on social media, though; while Mycoskie walks barefoot for 24 hours in Southern California, Toms fans all over the world participate in their own One Day Without Shoes.
"Our wish each year is that people just feel a genuine pull to participate and get involved in the movement," Mycoskie said. "This is meant to be something the Toms community can engage and interact with, but we also want to people to share the experience of what it's like not to have access to shoes, if only for one day."