President Obama Warns Press Not to Fixate on Trump-Driven "Circus" Side of Election 2016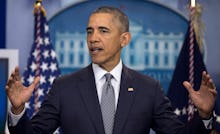 President Obama took the press to task Friday over Donald Trump, warning that the campaign is no joke — and reporters shouldn't cover it as a sport without substance.
"This is not a reality show. This is a contest for the presidency of the United States — and what that means is that every candidate, every nominee needs to be subject to exacting standards and genuine scrutiny," Obama said after speaking on the economy.
"What I'm concerned about is the degree to which reporting and information starts emphasizing the spectacle and the circus, because that's not something we can afford," the president said.
Specifically, Obama — who's long insisted Trump would never replace him and has not endorsed in the Democratic primary fight between Hillary Clinton and Bernie Sanders — told the press to drill down on the candidates.
"If they say they've got an answer to a problem, that it is actually plausible and that they have details for how it would work," he said, "and if it's completely implausible and would not work, that needs to be reported."
Given even House Speaker Paul Ryan's hesitance to cast his lot with Trump, Obama said the GOP faces a "debate" about "who they are and what they represent" — and who represents them.
"I think not just Republican officials but more importantly, Republican voters are going to have to make a decision as to whether this is the guy who speaks for them and represents their values," he said of Trump.
"I think Republican women, voters, are going to have to decide, 'Is that the guy I feel comfortable with in representing me and what I care about?'"
Obama, himself long the target of Trump's ire, said he doesn't stay up nights worrying about Trump tweetstorms.
Compared to the GOP, which produced Trump as its presumptive nominee after a bitter, personal and graphic primary season, Obama said his own party seems more consensus-driven right now.
Without personally taking sides, he pointed to Clinton's advantage in the delegate race to the nomination.
"I think everybody knows what that math is," he said, giving Sanders a nod for pushing "a whole range of issues that are important to Democratic voters as well as the American people generally."