Jon Stewart Just Made His Triumphant Return to Bash Donald Trump — And It Was Epic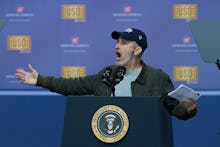 Good news, America — Comedy Dad. Is. Back.
... sort of.
Comedian and former The Daily Show host Jon Stewart took a break from retirement to make some pointed remarks about Donald Trump at an event honoring the 75th birthday of the United Service Organizations at Joint Base Andrews in Maryland on Thursday, the Hollywood Reporter reported.
And when you hear them, you'll remember exactly why Jon Stewart is a legend.   
Stewart was ostensibly on hand to introduce one of the event's keynote speakers, Vice President Joe Biden, but he couldn't resist taking a few shots at the presumptive GOP nominee, Donald Trump.
"Don't worry, Trump's going to keep you busy," he told the crowd. "You're going to have to repaint all the planes with 'Trump' in big gold letters."
Despite mocking Trump incessantly during his final weeks on air, Stewart has largely stayed out of the 2016 race and refrained from extended commentary on the billionaire's takeover of the Republican Party or the final fight which is expected between Trump and Hillary Clinton.  
Stewart's words are as funny as they are powerful — and we hope this is the first of many, many surprises before the November election.