The Suspected Shooter in Thursday's School Shooting Is Allegedly Responsible for Another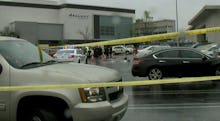 The man thought to be responsible for a fatal shooting at a Maryland high school on Thursday and two more shootings that have yielded at least two fatalities on Friday is now in custody, according to the Montgomery County Police Department's Twitter account.
In a Facebook post, Montgomery County Police Department officials identified the man as 62-year-old Eulalio Tordil. The New York Daily News reported officials said Tordil fatally shot his estranged wife and wounded a bystander at High Point High School on Thursday.
On Friday, three people were injured in a shooting outside the Westfield Montgomery mall in Bethesda, Maryland, police and witnesses told NBC Washington. The victims, two men and one woman, were rushed to Suburban Hospital for treatment, according to a hospital representative.
Reuters reported one of the male victims later died from his injuries.
In a press briefing, Montgomery County Police Assistant Chief Darryl McSwain said the mall shooting followed a confrontation in the parking lot between the shooter and one victim. He said the two other victims possibly sustained their injuries after rushing to the victim's aid.
A second shooting also occurred on Friday at a Giant grocery store in an Aspen Hill shopping center, just 8 miles down the road from Westfield Montgomery, WUSA reported.
Reuters reported a female victim there died from her injuries.
McSwain said at the briefing the suspect is not believed to have any connection to the Westfield Montgomery mall or Aspen Hill shopping center victims.
May 6, 2016, 3:08 p.m. Eastern: This story has been updated.
Correction: May 6, 2016