President Obama Spent Cinco de Mayo With This Little Girl for the Best Reason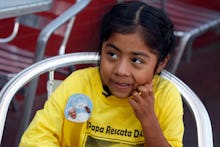 President Obama and Vice President Biden spent at least part of Cinco de Mayo celebrating with Sophie Cruz, who might be one of the youngest activists ever to swing by a White House reception.
Cruz, 6, is the child of undocumented immigrants. But her parents' immigration status meant that they were not allowed to attend the celebration in the White House along with their daughter, ABC News reported Friday.
Read more: Mexican-Americans Want You to Know You're Celebrating Cinco de Mayo Completely Wrong
The White House's official Spanish-language Twitter account shared a photo of Cruz meeting with both the president and the vice president before the official reception on Thursday. 
Cruz has made headlines before: Back in September, during Pope Francis' visit to the U.S., she ran up to his motorcade and hugged the pope, then handed him a T-shirt that said, in Spanish, "Pope: rescue DAPA, so the legalization would be your blessing."
Cruz and her sister are American citizens, but her parents are not — and their undocumented status means that they could be deported and their family could easily be split apart.
In an interview with the Washington Post in September, Cruz said that her goal was "To speak with the president and Congress, for they can give 'la reforma migratoria' for all the immigrants." This week, she got her chance to meet with the President — and perhaps got the opportunity to urge him to pass the kind of comprehensive immigration reform that could make families like hers more secure in their future in the U.S.