Black North Carolina Student Passes Drug Test, Is Suspended for Smelling Like Weed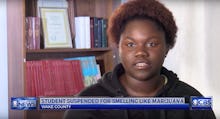 Even though school authorities never found marijuana on her and she passed a drug test, North Carolina student Jakayla Johnson received a five-day suspension because she smelled like weed. 
While Johnson was sitting in Chinese class, school officers entered the classroom, alleging they smelled weed from the hallway. They singled out Johnson and smelled her fingers, which, according to a school document obtained by local CBS affiliate, smelled "pungently" of weed. 
"I was feeling embarrassed because they called me out of everybody," Jakayla Johnson said to CBS North Carolina. 
Jakayla passed a drug test the day of her suspension. When her mom showed up at the school with the test results, the school showed her a document saying Jakayla had been in possession of marijuana. 
According to Jakayla's mother, Tameka Johnson, officials said they checked "possession" on the document because they had no other box to check for just smelling like weed. 
"In my head, you don't check anything then," Tameka Johnson said to CBS North Carolina. 
After Jakayla Johnson's suspension, she must take drug education classes or face suspension for the rest of the year. Johnson missed three tests and must complete work done while out. 
In a discussion with NPR, Monique W. Morris, author of Pushout: The Criminalization of Black Girls in Schools, talked about young black women and the school-to-prison pipeline. She said, "Black girls are getting the message that no one wants them there [in school] more than other girls." 
Young black women face a unique struggle against severe punishment in schools. Extreme punishments like Jakayla's lead to what some researchers call "pushout," and interactions with the criminal justice system. Black girls are six times more likely to get suspended than white girls. Racial disparities in punishment are greater for black girls than black boys. 
Jakayla's case shows that, even when a black girl does nothing wrong, punishment can still put her at risk for being pushed out of the school system.