Syrian Refugees Are Helping Canadians Displaced By Raging Alberta Wildfire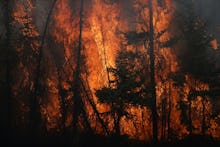 Get the five stories that will challenge you to rethink the world by signing up for MicCheck Daily.
As wildfires continue to ravage the countryside of Alberta, Canada, the country's Syrian refugees are doing everything they can to help families that have lost everything in the blaze.
The Alberta provincial government was forced to declare a state of emergency on Friday as a fire that began in the heart of the country's tar sands oil region continued to spread. A mass evacuation of the area has driven 80,000 people from Fort McMurray, and officials said Saturday that unfavorable weather conditions could cause the fire to double its current size.
Canada's resettled Syrian families are no stranger to the sort of displacement many Alberta residents are now facing.
Rita Khanchet, a Syrian woman who relocated to Calgary five months ago with her husband and son, told the Calgary Herald that she felt compelled to help those who had lost their homes in the fire.
"It's not easy to lose everything. We can understand them more than anyone in Canada. We were in the same situation," said Khanchet.
According to the paper, Khanchet posted a message urging fellow refugees to do what they could to aid members of their new community. Her message was reposted to a larger Syrian support group, and suddenly offers to help started pouring in.
"[Canadians] gave us everything. And now it's time to return the favor," she wrote. 
The Herald reports that refugee families, many of whom have very few possessions to begin with, are going out of their way to donate clothing, furniture and hygiene items to those affected by the fire. 
"We understand what they're feeling. When you lose everything, you have to start from zero. You lose your memories, your items. It's not easy. It's something very sad. We can totally understand their feeling," Khanchet said.
Read more: 9 Powerful Images Capture the Ravaging Wildfire That Evacuated an Entire Town