Sadiq Khan Elected First Muslim Mayor of London in Triumph Over Islamophobia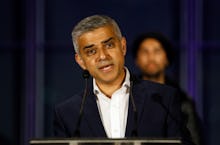 Labour Party's Sadiq Khan has become the first Muslim mayor of the city of London, defeating Conservative nominee Zac Goldsmith by a 300,000-vote margin and shattering the latter party's eight-year hold on the city's top job.
"I can't quite believe the last 24 hours," Khan told reporters, according to the Wall Street Journal. "I'm determined to lead the most transparent, engaged and accessible administration London has ever seen, and to represent every single community and every single part of our city as mayor for Londoners."
Khan won with 1.3 million votes, while Goldsmith stopped just shy of one million at roughly 994,000 votes. According to the Guardian's Owen Jones, Goldsmith attempted to play to Londoners' prejudices, repeatedly attempting to insinuate a link between Khan and Muslim extremists. A recent op-ed by Goldsmith in the Daily Mail not only included a photograph of the aftermath of the 2005 terror attacks in London, but also accused Khan and his party of having ties to extremist organizations from the IRA to Hamas.
As Khan's victory became clear, former Conservative Party co-chair Sayeeda Warsi tweeted about Goldsmith's campaign, calling it "appalling" and a "dog whistle."
Another Conservative leader, Andrew Boff, said the campaign reflected a "complete misunderstanding of the patchwork of faiths there are in London" and conveyed "that people who do have orthodox religious views, conservative religious views, are for some reason not welcome and won't be listened to," reported the Financial Times.
Criticism continued to pile onto Goldsmith from his own party and others.
Some pointed out similarities between Goldsmith's failed campaign and Republican presidential front-runner Donald Trump, who in Dec. 2015 pledged to ban all Muslim entry to the country.
But it was also time for Khan and his supporters to celebrate defeating bigotry.
However, not all was bright for the Labour Party, the Wall Street Journal reported, with wider losses across the country — especially in Scotland, dealing a blow to Labour Party leader Jeremy Corbyn's coalition.