Alabama Inmates on Strike, Say They Will "No Longer Contribute to Our Own Oppression"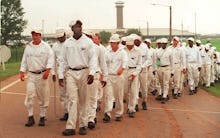 A coordinated prison labor strike in as many as five Alabama correctional facilities resulted in authorities putting two prisons on lockdown this week, ABC News reported, in an attempt to draw attention to inhumane conditions and systemic deprivation within the state's prisons.
According to Solitary Watch, three organizers who have been held in solitary confinement named Kinetik, Dhati and Brother M helped organize the effort, which began at "Alabama's Holman, Staton, and Elmore Correctional Facilities. St. Clair's stoppage will begin on May 9, with Donaldson and other correctional facilities to follow soon after."
Kinetik, Dhati and Brother M are members of the Free Alabama Movement, which hopes to carry on the strike for up to 30 days depending on the willingness of authorities to negotiate.
"We will no longer contribute to our own oppression," Kinetik told Solitary Watch. "We will no longer continue to work for free and be treated like this."
People incarcerated at the prisons are paid $0.17 to $0.30 an hour to perform a variety of functions. While some assist correctional employees in the maintenance, upkeep and staffing of prison facilities, others are engaged in manufacturing or industrial jobs which generate revenue for the correctional system from for-profit companies which rely on cut-rate prison labor. Much of that money is then sucked right back from incarcerated people in the form of heavy fees and fines 
Complaints are widespread and include lack of access to reading material, dangerous living conditions, tainted food, negligent treatment of prisoners in solitary and poor health services.
Earlier this year, riots broke out at William C. Holman Correctional Facility in Atmore, when 100 rioted against hellish conditions, setting fire to part of the prison. Many facilities in the state are notoriously violent.
Alabama is ranked third in the country for highest number of prisoners per capita as of 2013, and the state sent "650 people per 100,000 residents to prison in 2012, the same number as in 2011," according to AL.com. Whites comprise just 38% of the prison population as of 2011, said the site, but the U.S. Census Bureau reports Alabama is nearly 70% white.
"Trying to make people work for free all day, every day does not serve anyone's interest whether it's the citizens, the person who made the mistake, or his family members," an person incarcerated at William E. Donaldson Correctional Facility in Bessemer told the Montgomery Advertiser. "I can work for eight hours a day and my child will still go to bed hungry at night."
"The work strikes are simply the only source of power we have," he added. "We don't have political power. We don't have voting rights. We don't have political action committees. We don't have lobbyists. We don't have anything."
"Correctional staff are responding by delivering the basic services to all inmates at both facilities," the Alabama Department of Corrections told the Huntsville Times in a statement. "The facilities are secure, inmates are receiving their daily meals, and their healthcare needs are being met."
However, some people incarcerated at the prisons claim guards have responded by significantly cutting the size of meals.
"We haven't been allowed to get any form of recreation, we're confined to only our dorms, we aren't allowed to purchase food items from [the] institution store," another person told AL.com. "This isn't just an isolated issue, it's statewide. Before long each prison will participate. Trust me, it's catching like wildfire."