Shonda Rhimes Just Pointed Out One Huge Problem With Mother's Day Cards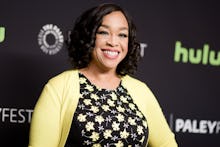 Greeting card industry, take note: Shonda Rhimes is over your meaningless platitudes.
In an interview with Oprah on SuperSoul Sunday, the producer and writer behind Scandal and How to Get Away With Murder pointed out that while many Mother's Day cards were quick to thank moms for their sacrifices, they too rarely gave thanks for the ways moms empower their children.
"Mother, you gave up so much for me. You worked so hard for me. You sacrificed so much. You were wonderful and giving and selfless," she said, listing examples of cards with messages that praise mothers for setting aside their own lives in favor of their child's wellbeing. 
"Where is the greeting card that says, 'Mother, you taught me how to be a powerful woman.' 'Mother, you taught me how to earn a living.' 'Mother, you taught me how to speak up for myself and not back down,'" she asked. "Those are the greeting cards that should be out there."
Rhimes, who is known for including themes of female empowerment and minority representation in her shows, said that she didn't want mixed messages about women's role in society to affect the worldview of her own children.
"I don't want my daughters to grow up and think, 'I should shrink and be in the background. I should be selfless. I should be sacrificing. I should be silent,'" she said.
Read more: Why It's OK to Celebrate Mother's Day Without Wanting Kids