Massachusetts Police Want to Know Who Posted Underage Students' Photos on Dropbox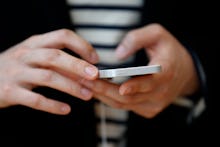 In Duxbury, Massachusetts, police have issued a search warrant to file-hosting website Dropbox as part of an investigation into who uploaded a collection of photos of female Duxbury High School students in "varying stages of undress," local police Chief Matthew M. Clancy told the Boston Herald.
The chief told the paper "It's a very sensitive, private and embarrassing matter. In most cases, these are selfies that were sent to a boyfriend."
According to Clancy, authorities are focusing on pursuing whoever is behind the distribution of the photos "aggressively," and said the police are "coming after them. We're going to pull out all the stops and hold them accountable."
School authorities originally became aware of the existence of the Dropbox page on Wednesday, reported the Boston Globe.
Police could charge some of the girls pictured with violations of Massachusetts state law if they sent them to others themselves, but they are instead choosing to treat them as victims. In a statement on the department's web site, Clancy said "There are some young people here who are very embarrassed and very upset. They are victims. They made a mistake and someone took advantage of that."
Non-consensual releases of intimate photos are a real problem, Elizabeth Plank wrote for Mic amid a mass release of celebrity nudes in Sept. 2014, and the victims often take the blame when they themselves have done nothing wrong.
Beyond celebrities, "it also occurs much more regularly for the thousands of women who are victims of revenge porn and have little or no effective legal recourse with which to go after their abusers," Plank wrote. "Nude photos won't go away. But we may be able to limit their power over use once women stop believing that their bodies can be used to punish them."
Authorities have sometimes reinforced the perception they are out to get young people who engage in sexting, despite concerns that crackdowns unfairly slap teens with life-ruining felony charges and sex offender statuses. 
In North Carolina, authorities charged a teenage couple with making and distributing child pornography last year despite the fact the photos pictured only themselves and were not distributed to other people. The 17-year-old boy in the couple, who could have faced up to 10 years in prison, eventually accepted a plea deal of two misdemeanor counts of distributing harmful material to minors. Similar cases have appeared in Michigan, Connecticut and elsewhere.