These High School Students Can Now Officially Wear Their 'Dump Trump' Shirts On Campus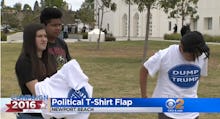 A group of California high school students is getting the last laugh after administrators told them they were allowed to wear the 'Dump Trump' t-shirts they had previously been harassed over.
According to CBS News, sisters Angelina and Alexcia Alvarez were bullied by other teens at Newport Harbor High School for their sartorial diss of the presumptive Republican presidential nominee.
School officials initially opted for the quick fix: banning the shirts that were causing the controversy, rather than addressing the perpetrators of the attacks themselves.
"They repeatedly would state that it was for our own safety and that they didn't want kids to harass us," Alexcia Alvarez said.
On Friday, however, the sisters planned to wear the shirts with the full approval of the administration, which they said had long allowed pro-Trump t-shirts to be worn on campus without incident.
"I feel like they're saying that we can wear the shirt makes me feel equal with them now. That I have the same privileges as they do. I didn't feel that before," Angelina Alvarez said.
Annette Franco, a district spokesperson for the Newport-Mesa Unified School District, told CBS News that the issue had always been about safety, and not creating an impediment to the students' freedom of speech.
"Regardless of what side you're on, we do allow students to wear their political attire as long as safety and security of our students is not comprised and that we maintain focus on learning," she said.
The Alvarez sisters told the network that they hoped their fashion statements would help other students to feel comfortable making their own political statements in the future.
"Other kids seeing us wear the shirts, that they feel like they can stand up too," Alexcia said. "That's like a time for us all to unite."
Read more: Donald Trump's Campaign Is Basically All From '30 Rock' — And It's Eerily Accurate