The Woman Behind Mother's Day Despised How the Holiday Became So Commercialized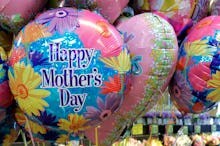 It would be safe to assume Anna Jarvis, the woman responsible for creating Mother's Day in the early 1900s, is turning in her grave every second Sunday in May. The leader behind the fruition of the annual holiday had a sharp change in tone throughout the second half of her life, as she worked to dismantle everything she once stood for, regretting that it was enveloped by a world of consumption. 
The social activist and college graduate first sought to have Mother's Day, a day of honoring all mothers both alive and deceased for their unparalleled impact on their children's lives, to be recognized as a federal holiday. She engaged with community organizations like the World's Sunday School Association, as well as the floral industry (which quickly popularized wearing flowers on the special day), to promote the universal message behind Mother's Day. The day became an annual holiday in 1914. 
Later, she would encourage the world to stop partaking in the tradition, as it had been hijacked by "charlatans, bandits, pirates, racketeers, kidnappers and termites that would undermine with their greed one of the finest, noblest and truest movements and celebrations."
For Jarvis, celebrating Mother's Day was always supposed to be simple — rather than spending your last dollar every year on an extravagant arrangement of flowers, the creator of the holiday encouraged society to follow every mother's golden rule about gift-giving: It's the thought that counts. 
"A maudlin, insincere printed card or ready-made telegram means nothing except that you're too lazy to write to the woman who has done more for you than anyone else in the world," Jarvis would later note, Mental Floss reported. "Any mother would rather have a line of the worst scribble from her son or daughter than any fancy greeting card."
Though a United States Postal Service stamp began production in 1934, a feat most activists would be enthralled to see happen for their movement, Jarvis was disconcerted that the vase with flowers pictured might have been a tribute to the floral industry as an advertisement.
Read more: Shonda Rhimes Just Pointed Out One Huge Problem With Mother's Day Cards