We'll Soon Be Able To Report Crimes And Shootings To Police Through Facebook Messenger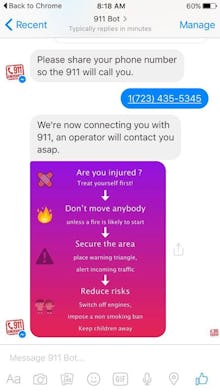 Reporting a life-threatening crisis to the authorities could soon be as easy as opening your Facebook Messenger app and clicking a few buttons. 
911bot, a Facebook Messenger-based chat bot built at TechCrunch's 2016 Disrupt Hackathon, seeks to make it easier for users to get in contact with the authorities faster via messaging rather than picking up the phone for a number of issues, from car accidents to shootings. "In emergencies, the most important thing is getting stuff done, and not waiting on the line," the creators of 911bot explained on Sunday. 
The bot first begins by asking them to click on a photo or send a message relative to what they're reporting to the police. The chat bot then collects that users phone number and location, and places a phone call to the authorities with a detailed report of the incident, narrated by a automated voice. 
In the meantime, the user is provided relevant information to whatever issue they might be facing. 911bot is capable of providing detailed instructions with images provided on how to perform CPR, as well as being equipped with a range of other life-threatening emergency response messages. 
Getting the necessary counsel on what to do in the case of a life-threatening emergency quickly could have major implications for people like choking victims. The makers of 911bot, who created the program using Twilio and relied on Facebook Messenger, API and ESRI for location data, have not yet announced plans to roll out the product nationally. 
Read more: Microsoft's Tay AI Chatbot Went from Friendly Robot to Racist Nazi, Gets Its Plug Pulled
h/t: TechCrunch