Someone Is Leaking the Plot of Every New 'Game of Thrones' Episode Online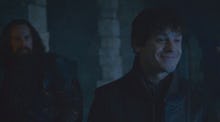 A full two days before each episode of Game of Thrones' sixth season airs, an anonymous Spanish-speaking web user has been leaking entire elements of said episodes' plots to YouTube, Tech Insider reported on Saturday.
HBO has responded by yanking the spoiler-filled videos from YouTube, and is presumably looking into how details of upcoming episodes are ending up on the web.
According to Tech Insider, the "Spanish Spoiler" has found a home on one of Reddit's online communities dedicated to the A Song of Ice and Fire series, /r/FreeFolk. There, he (or someone claiming to be him) admitted he had a "spoiler conection" that was "just three weeks old" as of earlier this week.
"I am very concerned about [my notoriety] because I don't want to risk [my] source," he wrote in another post. "This is a hobby for me, so it ends when YouTube bans me forever or when it stops being entertaining, or someone has to pay the consequences."
None of the videos actually feature any copyrighted material from the show itself, the anonymous leaker added, and at one point he also posted to /r/FreeFolk asking if posting them actually violate any YouTube policies.
Last year, four of season five's first episodes leaked weeks early after HBO sent out preview DVDs to members of the press, prompting a critical re-evaluation of whether media companies could still rely upon the discretion of reviewers. That prompted the show's creators to opt out of sending them out before this season.
So whoever the Spanish Spoiler is, he likely has some kind of contact tied to the production of the series... or, to put it another way, knows one of Lord Varys' little birds.