Sheryl Sandberg Admits There's A Huge Problem With 'Lean In' Just In Time For Mother's Day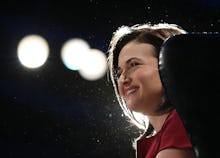 Sheryl Sandberg, author of Lean In and the chief operating officer of Facebook, admitted Saturday she may not have given enough credit to single mothers in her New York Times bestselling book — just in time for Mother's Day. After her husband passed away from a sudden and tragic death, the author and entrepreneur says she was given a taste of what those mothers must endure without her fortune and support system, all while working jobs that pull them away from their family. 
Sandberg posted a lengthy status to Facebook on Saturday explaining what lead her to realize single mothers are one of the most marginalized groups in the nation. "In Lean In, I emphasized how critical a loving and supportive partner can be for women both professionally and personally—and how important Dave was to my career and to our children's development. I still believe this," Sandberg wrote. "Some people felt that I did not spend enough time writing about the difficulties women face when they have an unsupportive partner or no partner at all. They were right."
The COO went on to describe how single mothers often live in poverty, with women of color being of the most likely to experience such hardships. She then noted America is the only developed nation without paid maternity leave and several other instances of neglect our society has perpetuated against the plight of the working mother, writing, "we all too often leave the families who are struggling the most to fend for themselves."
"Being a mother is the most important—and most humbling—job I've ever had," Sandberg concluded. "As we rightly celebrate motherhood, we should give special thanks to the women who are raising children on their own. And let's vow to do more to support them, every day."
Read more: Read Sheryl Sandberg's Touching Tribute to Her Late Husband, Posted on Facebook