Venezuelan Politician Germán Mavare Killed Amid High Political Tensions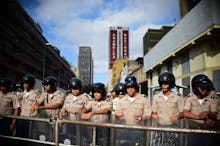 A local leader of the Venezuelan opposition party UNT is dead after being shot in the head on Friday, Fox News Latino reported, amid a deepening economic crisis which has seen political fissures grow across the country.
Germán Mavare, a UNT leader in the western state of Lara, died in what some other Venezuelan politicians as well as his party suggested could be a political assassination — although the alleged murder may have been an unrelated crime, such as a robbery gone wrong.
On Twitter, legislator Luis Florido of the Voluntad Popular opposition party warned politics in Venezuela was becoming dangerous.
Venezuela's economy has suffered greatly in the past few years amid falling oil prices, which has been compounded by poor governance, wrote the Washington Post's Matt O'Brien earlier this month.
The country is "well past the point of worrying that its economy might collapse," O'Brien wrote. "It already has. That's the only way to describe an economy that the International Monetary Fund thinks is going to shrink 8 percent and have 720 percent inflation this year."
In addition to massive power outages, a two-day workweek for state workers and supply shortages at state-owned stores, Venezuela has one of the world's highest homicide rates and "violent crime remains an all-pervasive worry for Venezuela's 29 million people, especially in poor slums run by gangs and rife with guns," reported Reuters. President Nicolas Maduro, who belongs to socialist party PSUV, has instructed his followers "to declare yourselves in rebellion and undertake an indefinite strike" if he is removed from office by an ongoing recall effort.