Bayan Zehlif, Muslim Student in California, Identified as "Isis Phillips" in Yearbook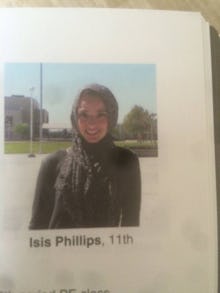 When Bayan Zehlif opened her high school yearbook, she came across a most unwelcome surprise. The student at Los Osos High School in Rancho Cucamonga, California, found her photo, in which she's wearing a hijab, but underneath her name, she had been labeled as "Isis Phillips." 
Read more: 14-Year-Old Ahmed Mohamed Sent to Jail for Bringing Homemade Clock to School
"I am extremely saddened, disgusted, hurt and embarrassed that the Los Osos High School yearbook was able to get away with this," she wrote Saturday on Facebook. "Apparently I am 'Isis' in the yearbook. The school reached out to me and had the audacity to say that this was a typo. I beg to differ, let's be real."   
School officials did reach out to Zehlif and said the name had been a misprint and are now asking students who have received the yearbook to return them for an updated copy, the Los Angeles Times reported.  
The Council on American-Islamic Relations called for an investigation, which school officials support. Chaffey Joint Union High School District superintendent Mat Holton promised an investigation and said if evidence of intentional wrongdoing was discovered, the guilty parties would be held accountable. 
"If they find that a student acted irresponsibly and intentionally, administration will take appropriate actions," he told the Los Angeles Times. "The school will assure students, staff and the community that this regrettable incident in no way represents the values, or beliefs, of Los Osos High School."  
It's not the first time Muslim students have faced heightened scrutiny in school environments. In September, Ahmed Mohamed, perhaps better known as "clock boy," was briefly taken into custody by law enforcement after his Texas high school teacher thought a clock he made at home was a bomb. Mohamed rode the incident and a corresponding wave of publicity all the way to the White House and a scholarship to study in Qatar.