John Oliver Takes on Philippine Mayor Rodrigo Duterte, the "Trump of the East"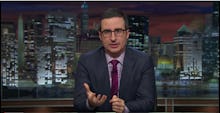 While the Republican party almost certainly has to live with Donald Trump as their presidential candidate in 2016, the choice doesn't seem as horrifying when compared to the presidential frontrunner for the Philippines, according to John Oliver. Yes, Rodrigo Duterte, currently the mayor of Davao City, is infinitely worse than Trump in every offensive manner imaginable, said Oliver Sunday on Last Week Tonight. 
"Duterte routinely kisses his female supporters and once called the Pope a 'son of a bitch,' all of which has earned him the reputation as the 'Trump of the East' — a title previously held by a burnt wonton covered in scarecrow pubes," Oliver said.
Kissing his female supporters, however, is just the tip of the iceberg. Duterte has also made homophobic remarks at a wedding, suggested he would kill an average of five criminals per week if elected and has admitted to killing "about three people." 
"I'm sorry, 'about three people?'" Oliver said. "That is not good. Not knowing how many people you've killed is like not knowing how many Vicodin you took. If you don't know the exact number, the answer is: way too fucking many ... Duterte has seemed like he is trying to test the limits on basic human decency." 
The host then points to his response to the gang rape and murder of Australian missionary Jacqueline Hamill in his city, Davao, in 1989. He said he was angry that she was raped, but "she was so beautiful, I think the mayor should have been first. What a waste." Like the initial backlash from the response, Oliver's commentary was irate. 
"OK, let this be a lesson to all of us: When we say 'I just want a politician who will tell me what he really thinks,' we should specify that that politician should not be a total fucking monster," Oliver said. 
Check out the full segment on Duterte below. 
Read more: Meet Rodrigo Duterte, the Donald Trump of the Philippines