Kanye West Gave Kim Kardashian West a Private Orchestra in Their House for Mother's Day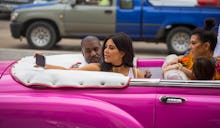 While Kim Kardashian West was away from home for Mother's Day last year, her husband surprised her with hundreds of white roses in her Brazil hotel room, followed by dinner with a string quartet playing the likes of Sam Smith and her favorite songs — you know, typical dad stuff. But being that she was home in California this year, Kanye West did what any father would do: set up a private orchestra in their living room. 
Ann Jarvis, the inventor of Mother's Day, is probably turning in her grave. Kardashian West caught some of the spectacle on Snapchat, as West filmed her and their daughter North in pajamas watching the musicians perform a medley of songs, from Disney films Frozen and Annie, as well as a string quartet version of 1998's "Hard Knock Life (Ghetto Anthem)."
West is known for going out of his way to provide the most extravagant gifts for his wife. His boisterous displays of affection for her date back to their undeniably iconic proposal on her birthday in 2013 in the heart of San Francisco's AT&T Park, complete with the Chicago Symphony playing Kardashian West's favorite song, Lana Del Rey's "Young and Beautiful."
This year wasn't much different, and while some (including Jarvis) might say Mother's Day wasn't meant for over-the-top displays, it's at least nice to see West is maintaining the not-so-little things he does for his wife.
Kardashian West shared more Mother's Day love on social media, including old photos of her parents and grandmother on Instagram. "I'm so lucky to have you as my mom," she wrote about her mother-manager, Kris Jenner. "Being a mom now makes me appreciate how hard it was to raise all of us!"
Following her Mother's Day surprises, Kardashian West flew off in a private jet for a business trip spanning across the country, proving she and West are just two of the most relatable parents in history. 
Read more: The Kardashians Are Filming 'KUWTK' in Cuba — And It's Pissing People Off