Radiohead Finds Balance Between Past and Present on 'A Moon Shaped Pool'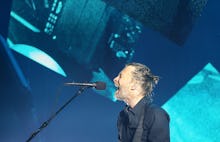 The fascination people have held for Radiohead over the past 20-plus years is somewhat difficult to explain. On one hand the band has been consistent enough to become a stereotype: No band's albums contain better music perfect music to weep softly or contemplate the universe to on rainy days. Yet each of them sounds markedly different. 
Their music has managed to remain familiar and unpredictable enough to keep fans craving the next innovation. The band's latest, A Moon Shaped Pool, their ninth studio album, fits this convention and promise perfectly. 
It was not music to accompany a chipper Mother's Day brunch, as many on Twitter were quick to point out when it dropped Sunday. Yet the album stretches far beyond their norm and actually succeeding in capturing messages the band has rarely been able to fully capture — earnest feelings, hopeful ones. 
The songs are not completely mired by a sense of doom (Surprise!). They're far more subtle than usual. Their politically minded hymns don't sound like the bombastic metaphors of "Fitter Happier" or the Orwellian undertones of Hail to the Thief. Similarly, their use of electronic effects don't fragment or dominate their songs. They only embellish the band's characteristically dark, dreamlike blend, which feels more precise and purposeful than it has in years.
In many ways, the album feels like a culmination of many of individual threads of conversation the band has been having amongst themselves from record to record. It contains some of the technological skepticism, the same nameless fear of a droll, totalitarian future. The same outcast sentiment Thom Yorke used to launch Radiohead's career on "Creep" appear, but it appears refined and scrutinized more precisely on Pool.
That mission statement of a chorus "I'm a creep/ I'm a weirdo/ What the hell am I doing here?/ I don't belong here" appears in a similar fashion on "Glass Eyes." 
"Hey it's me," Yorke says introducing himself as a man unhinged and out of place. "I just got off the train/ A frightening place/ Their faces are concrete grey/ And I'm wondering, should I turn around?"
The thing that differentiates A Moon Shaped Pool from so many of their past endeavors is that Yorke doesn't turn around. He heads deeper into his psyche and somehow finds hope there. After "waking up from shutdown from a thousand years of sleep," Yorke sings on "Desert Island Disk," he seems to have found something new to drive his meditations: "Different types of love/ Are possible."
The effect breathes new life into the Yorke character that has been stumbling through various bored nightmares since 1993. His '60s-tinged political anthem "The Numbers" actually feels invigorating. "We call upon the people," Yorke sings, putting on a Lennon air. "People have this power/ The numbers don't decide/ Your system is a lie."
"Present Tense" provides the most self-aware description of what Radiohead's deep reveries have always aimed for: "This dance/ It's like a weapon/ Of self defense/ Against the present."
The album literally brings the band's distant eras into communion with one another. The album's closer, "True Love Waits" dates back to 1995 — The Bends era. It was originally backed by a determined guitar strumming pattern, and now features a lush and chaotic piano accompaniment. Yorke's vocal feels far more vulnerable, the emotions he's attempting to capture are far more delicate and fleeting than the song's original self-assured yawp. 
The band has found balance, something didn't always seem to be seeking. Their songs feel whole. Yorke's electronic experimentations, which he explored on his Atoms For Peace project, give bounce to Jonny Greenwood's soundtrack-esque string arrangements, rather than look to tear them to pieces as they did on King of Limbs. 
This balance is new, unexpected and something that makes every listen through the album more enjoyable than the last. Now the band has found it, it's going to be harder to look at any of their past albums as self-contained and complete, as they once did.