Donald Trump: My Administration Will Hike Taxes on the Rich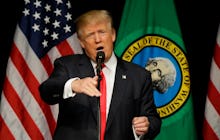 Presumptive Republican presidential nominee Donald Trump signaled Sunday that the wealthy would see higher taxes under his administration, breaking with conservative orthodoxy and his own tax plan.
Appearing on ABC News' This Week With George Stephanopoulos, Trump said his call for a massive tax cut for the wealthy was a negotiating gambit and he expected the rich would ultimately pay more to the federal government.
Read more: Could Donald Trump Beat Hillary Clinton?
"I make deals," Trump told Stephanopoulos. "I negotiate. I put out a plan that has a massive, massive tax — bigger than any other candidate. We have to negotiate with Congress. What I'm doing is I'm putting in a plan and that's my maximum plan. It's what I want.
Asked directly whether he wanted to see taxes for the wealthy "go up or down," Trump said, "They will go up a little bit."
Trump's plan: That's a turnabout from Trump's tax policy, which calls for a slash in the top income rate from 39.6% to 25% and would leave the richest households with an estimated $1.3 million more in after-tax income each year, the Wall Street Journal reported.
But Trump told Stephanopoulos there's no contradiction between that plan and his remarks Sunday.
"Look, when I'm negotiating with the Democrats, I'm putting in plan," Trump said. "I'm putting in my optimum plan. It's going to be negotiated, George, it's not going to stay there. They're not going to say there's your plan, let's approve it. They're going to say, 'Let's see what we can do.'"
Trump has a history of backing tax hikes on the rich, proposing a one-time 14.25% "net worth tax" on individuals and trust funds worth at least $10 million in 1999, as he flirted with a third-party presidential bid.
Trump also said Sunday he would remain firm in advocating his proposed cut in the corporate tax rate from 35% to 15% and would "fight like hell" to preserve tax cuts for the middle class.
The bottom line: With Trump facing unease in many establishment GOP quarters, his willingness to buck standard Republican principles on tax policy could further complicate his efforts to unite the party.
But as Trump pivots to general election mode, his heresies on taxes and the minimum wage could help him appeal to more moderate and independent voters in his contest against likely Democratic nominee Hillary Clinton.