Native American High School Students Fight to Wear Traditional Feather on Graduation Cap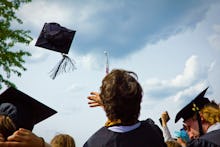 At the end of April, Native American seniors about to graduate from Elton High School in Jennings, Louisiana, were given permission to don eagle feathers during graduation, according to the Times-Picayune. Originally, the school had decided against it, citing that the feathers violated its dress code.
"Students have been fined and not allowed to graduate because of a feather," Sophia John, a Coushatta Tribal princess, told the Times-Picayune. "We are not doing this to be disrespectful. We just want to show pride, and we should be allowed to celebrate our heritage."
In many tribes, the eagle feathers are symbols of great accomplishments. For the past few years, Native American students have fought for the right to represent their heritage during their high school graduation, citing that the ban is disrespectful to their culture. 
Sometimes the fight ends up in court, and sometimes it ends up on social media, with the hashtag #LetTheFeathersFly.
Harden Griffith, a former Caney Valley High School student in Caney, Kansas, sued the school district in April for $10,000 in civil damages for not letting her attach a feather on her cap during last year's graduation, the Examiner Enterprise reported. She argues the school violated her rights under the Oklahoma Religious Freedom Act since the feather is a part of her religious beliefs.
Often, the schools take on a blanket stance, arguing that the feather, or any altercation, would disrupt the visual unity of the graduating class, according to the Kansas City Star. Schools typically offer students to wear the feather under the gown or in the hair.
"It makes me feel like I have to hide who I am," Waverly Wilson, a graduate from Lakes High School in Lakewood, Washington, told the Indian Country Today Media Network of that option last year. 
Read more: Bayan Zehlif, Muslim Student in California, Identified as "Isis Phillips" in Yearbook