Elon Musk Wants People to Look Badass on Mars, Hired Superhero Costume Designer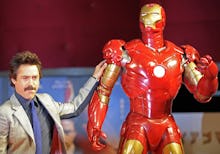 To explore the final frontier in style, SpaceX founder and CEO Elon Musk has hired the guy who designed Iron Man's suit.  
SpaceX is a private institution devoted to advancing space flight, "with the ultimate goal of enabling people to live on other planets," according to its site. The company is working with NASA to send supply-carrying drone rockets to the International Space Station. But soon, SpaceX will be ferrying humans into space. In November, NASA announced it had selected SpaceX to launch astronauts into orbit in 2017.    
In an interview with Bleep magazine, costume designer Jose Fernandez said SpaceX reached out to him to submit a design for its future spacesuit. When he was first approached, Fernandez said he thought SpaceX was a film company. 
Fernandez competed against four other companies, ultimately winning the opportunity to design SpaceX's suit. Fernandez has worked on costumes for The Fantastic Four, Iron Man, Batman vs Superman and the upcoming film Black Panther. 
Elon Musk "kept saying, 'Anyone looks better in a tux, no matter what size or shape they are,' and when people put this space suit on, he wants them to look better than they did without it, like a tux. Fernandez told Bleep. "You look heroic in it. It's an iconic thing be a part of." 
Fernandez said he spent six months working with Musk on the final design. SpaceX is now reverse engineering the design to build functionality into the suit, according to Fernandez, who added he expects the suit to be revealed in the next several months.