Kris Jenner Posted an Adorable Tribute to Her Former Sons-In-Law on Instagram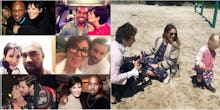 There is a scene in the classic 1995 film Clueless in which Cher's father tells her that her ex-stepbrother Josh is coming over for dinner because "you divorce wives, not children."
Turns out this is actually a popular sentiment in modern-day Los Angeles! This past Mother's Day weekend saw two Instagram posts bolstering this philosophy.
The first was from Kardashian grand matriarch Kris Jenner, who posted a Mother's Day tribute to Lamar Odom, Scott Disick and Kanye West — only one of whom is actually in an active relationship with one of her daughters.
"To my son Lammy, I am so thankful for your strength through adversity and your sweet gentle spirit," Jenner wrote to daughter Khloé's estranged husband Lamar Odom. "Thank you Scott for bringing so much laughter to my life. You're crazy and wonderful and unique to the core," she wrote to daughter Kourtney's baby daddy and ex-boyfriend Scott Disick. 
Meanwhile, Drew Barrymore celebrated Mother's Day by hanging on the beach and sipping cocktails with Coco Kopelman, mother of her soon-to-be-ex-husband Will Kopelman.
According to the American Grandparents Association, it's good that these connections are still flourishing, even if the relationships that created them to begin with have gone down in flames. "Just because your child's marriage didn't work out, it doesn't mean you're out of the picture," a blog post on the organization's website states.
Their advice for aspiring Kris Jenners and Coco Kopelmans of the world is as follows:
Regardless of who might be at fault or who initiated the divorce, the dissolution of a marriage is painful for everyone involved. A loving phone call, a kind email or even a good cry over a cup of coffee will go a long way toward setting the stage for future relations with your ex daughter- or son-in-law.
Mel Horowitz couldn't have put it better himself!
h/t People