The Governor of North Carolina Will Sue the Department of Justice Over Anti-Trans Law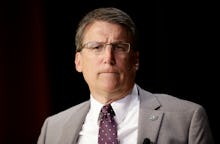 North Carolina Gov. Pat McCrory will sue the United States Department of Justice over the challenge the federal government has made to the state's increasingly controversial anti-transgender "bathroom bill," Reuters reported Monday. McCrory had until end of day Monday to respond to the department's order for North Carolina to reverse the law on the grounds that it violates federal civil rights laws. 
The governor released a statement Monday saying the White House was trying to "rewrite the law," and that doing so could have implications beyond North Carolina. 
"The Obama administration is bypassing Congress by attempting to rewrite the law and set restroom policies for public and private employers across the country, not just North Carolina," the statement read. "They are now telling every government agency and every company that employs more than 15 people that men should be allowed to use a women's locker room, restroom or shower facility." 
On Monday afternoon, the United States Department of Justice also announced that they would file suit against the state of North Carolina over the issue, the Associated Press reported. 
The Public Facilities Privacy and Security Act, which the governor signed in March, requires citizens of North Carolina to use the bathroom corresponding to the gender marked on their birth certificate. The bill drew deep divisions in the state and even among Republicans, having divided GOP presidential candidates in the days before Donald Trump became the presumptive nominee. 
May 9, 2016, 4:00 p.m. Eastern: This story has been updated.