It's 2016 — How Are These Offensive Yearbook "Mistakes" Still Happening ?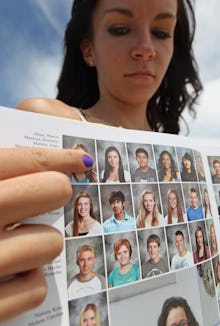 As the school year draws to a close each spring, American high school students celebrate the time-honored traditions of awkward proms, senior pranks and offensive and discriminatory yearbook "typos." 
That's right, it's time yet again for the annual reports of high school yearbooks that misidentify, ignore or mock students because of their race, religion or sexual orientation. 
Just this past weekend, Bayan Zehlif, a junior at Los Osos High School in Rancho Cucamonga, California, opened her yearbook to find that, instead of her name, she had been labeled "Isis Phillips." 
"I am extremely saddened, disgusted, hurt and embarrassed that the Los Osos High School yearbook was able to get away with this," Zehlif, who is Muslim and wears a headscarf, wrote in a Facebook post on Saturday. "Apparently I am 'Isis' in the yearbook. The school reached out to me and had the audacity to say that this was a typo. I beg to differ, let's be real."
Zehlif's high school is now reportedly working to figure out just how no one noticed the alleged "typo," and superintendent Mat Holton told the Los Angeles Times that "if they find that a student acted irresponsibly and intentionally, administration will take appropriate actions."
But this is just the latest incident in a troubling trend.
Last August, Dalton Maldonado, an openly gay student and a basketball player at Betsy Layne High School in Floyd County, Kentucky, was excluded from the list and photos of the school's basketball team — and he didn't think it was an accident.
"I was both shocked and disappointed to see that my picture wasn't added to the pictures," he told the Huffington Post in an email. "This has been [one of] my favorite sports, and for my senior basketball picture to be left out was humiliating and embarrassing."
The superintendent of Floyd County Schools, Henry Webb, told USA Today at the time that Maldonado's exclusion was "sheer human error," and that even though Maldonado wasn't included with the rest of the basketball team, his picture appeared 15 times in other parts of the yearbook.
In 2010, Ceara Sturgis, then-high school senior at Wesson Attendance Center in Wesson, Mississippi, and out lesbian found that her photo — and name — had been omitted from the yearbook. 
Sturgis had already battled with her school to allow her to pose in a tuxedo, rather than a dress, for her yearbook photo, reported the Advocate. 
The ACLU even stepped in, writing a letter to school officials demanding that they allow Sturgis to use the photo she had submitted. But when Sturgis finally got her yearbook, she found that rather than being allowed to pose in a tux, she had just been cut out of the yearbook altogether.
Back in 2008, the yearbook at Charter Oak High School in Covina listed fake names under photos of member's of the school's Black Student Union, Los Angeles Times reported.
The school district's superintendent told the Times that the fake names — among them "Tay Tay Shaniqua," "Crisphy Nanos" and "Laquan White" — were a "regrettable mistake."
What's especially disturbing about these offensive yearbook incidents is that, whether they're the work of the students put in charge of assembling the yearbook or inserted on behalf of a higher power, they forever memorialize the bullying that represents the worst of some students' high school experiences. 
So here's a tip, high schools of America: If you can't handle the responsibility of publishing a yearbook that properly represents your student body, maybe you should just stop trying.