Kendra Wilkinson Celebrated Mother's Day by Proudly Showing Off Her Stretch Marks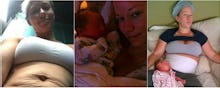 Most Playboy bunnies don't have prominent stretch marks — or scars, or cellulite, or any bodily imperfections at all, for that matter. 
But ex-Playmate and mother-of-two Kendra Wilkinson doesn't care! The model and reality TV star proudly displayed her stretchies in a Mother's Day Instagram post Sunday.
"Look what my 2 babies did," she wrote in the post's caption. "They made me happy."
It would not be a stretch (hehe) to say that Wilkinson is joined by legions of other women with post-baby tiger stripes. Approximately 90% of pregnant women get stretch marks during pregnancy, usually around the sixth or seventh month. Celebrities like Chrissy Teigen and Karrueche Tran have also proudly flaunted their stretch marks on social media. 
Good for Wilkinson for saying no to the standard snapshots of brunch and flowers this Mother's Day, and instead giving us all a stretchy li'l dose of maternal realness. I wonder if Hugh Hefner faved it.
h/t People