These Drones Flew Over a Lake of Lava — And the Results Are Literal Fire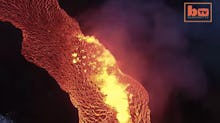 Photographer and drone enthusiast Eric Cheng flew his DJI Inspire 1 drone into an erupting volcano in Iceland and the footage is lit. 
The quadcopter whirred over the lava lake, part of the Holohraun lava field that is nearly equal in size to Manhattan, Bancroft TV reported. The drone nearly melted during the mission. Better an unmanned aerial vehicle than human flesh. 
This is a fantastic example of how machines can stand in for humans in life-endangering conditions. 
Soaring through volcanoes may be more of a hobbyist pursuit, but climbing up power station boiler tubes, manual welding and other seriously dangerous jobs are being taken over by drones too. 
More volcano drones, please.