Report Shows Facebook Curators Blocked Conservative News From Trending Feed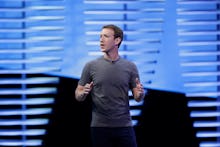 Facebook routinely censors conservative news from appearing on its trending news section, according to a report by the website Gizmodo, published Monday. 
The report included revelations that the social media giant would often artificially inject news into its trending bar even if it had not been organically viral and that news about Facebook was routinely prevented from appearing in the trending space at all.
Read more: Teen Bullied by Students and Teachers for Wearing "Make America Great Again" Hat to School
"Every once in awhile a Red State or conservative news source would have a story," a curator told Gizmodo. "But we would have to go and find the same story from a more neutral outlet that wasn't as biased. It was absolutely bias. We were doing it subjectively. It just depends on who the curator is and what time of day it is."  
This is what the area looked like as of early Monday afternoon. 
Facebook hired a team of crack journalists to "curate" the trending news bar shortly after it was launched in 2014. Their mandate was to analyze what trended organically and promote them with pithy headlines and descriptions. As Gizmodo pointed out, it appears increasingly evident that the process was far closer to a normal newsroom. 
Conservatives were quick to pounce on Facebook for allegedly burying conservative media; conservative icon Ann Coulter led the charge with some mockery.  
"The most shocking fact is that Zuckerberg can't figure out how to determine what's 'trending' on Facebook and has to have his 'curators' make it up," Coulter said. "He should have the Winklevoss brothers fix that."
"So we can now dispel the idea that Facebook is unbiased in what it chooses to prioritize and show you," The Sean Hannity Show groused on their website.   
The company declined to comment on the piece, but Facebook chief Mark Zuckerberg is well-known for his liberal ideologies, including his vocal support of the Black Lives Matter movement and his $100-million donation to the Newark, New Jersey public school system.  
In a lengthy reply, Facebook vice president of search Tom Stocky refuted the charges saying that an internal investigation revealed no evidence of suppression.
"Facebook is a platform for people and perspectives from across the political spectrum. There are rigorous guidelines in place for the review team to ensure consistency and neutrality," he wrote on a public Facebook post, Tuesday morning. "These guidelines do not permit the suppression of political perspectives. Nor do they permit the prioritization of one viewpoint over another or one news outlet over another. These guidelines do not prohibit any news outlet from appearing in Trending Topics."
May 10, 2016, 8:26 a.m.: This post has been updated.