#MaybeHeDoesntHitYou Spotlights Relationship Violence That Isn't Physical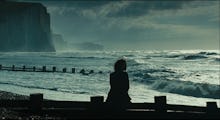 When many people think of domestic violence, they likely picture something not unlike Rihanna's bruised and battered face at the hands of then-boyfriend Chris Brown in 2009. However, physical violence is not the only way domestic violence exists. 
On Monday, Twitter users reminded everyone about the nonphysical forms abuse of relationship abuse can take with the hashtag #MaybeHeDoesntHitYou, which started with a string of tweets from writer Zahira Kelly, who uses the handle @bad_dominicana, last week:
Read more: People Who Commit Domestic Violence Have Different Brain Activity Than Other Criminals 
In sharing her own experience, Kelly quickly found she wasn't alone: 
According to domestic violence nonprofit Safe Horizons, domestic violence includes five categories of abuse — physical, sexual, economic, emotional and psychological — and encapsulates any "pattern of behavior used to establish power and control over another person through fear and intimidation, often including the threat or use of violence."
About 1 in 4 women and 1 in 7 men are victims of what the National Domestic Violence Hotline calls "severe" physical violence from an intimate partner at some point in their lives. Domestic violence affects all genders and happens in same-gender and opposite-gender relationships alike.  
While studies have shown people who perpetrate domestic violence have different brain functioning than other criminals, relationship abuse typically arises from social forces as well.  StopRelationshipAbuse.org cites toxic masculinity, media's glorification of violence, rape culture and society's insistence on rigid gender roles as contributing factors. 
According to the site, warning signs of abuse include a partner preventing you from seeing your friends and family, or humiliating you in front of them:
Your partner might make it a point to knock down your self-worth:
Or leave you worrying about if — or when — the abuse will become physical:
StopRelationshipAbuse.org emphasizes that abuse is never the fault of the victim. "No matter what others might say, you are never responsible for your partner's abusive actions," the site says. "Dating abuse is not caused by alcohol or drugs, stress, anger management, or provocation. It is always a choice to be abusive."
May 9, 2016, 4:03 p.m.: This story has been updated.