People May Soon Be Able to Pay Their Parking Fines With Canned Food Donations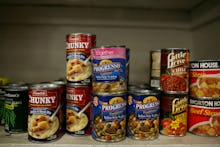 Turns out Chef Boyardee is good for more than a cheap salt-saturated meal: He could potentially help you pay off a parking ticket. 
Guido Maniscalco, a councilman in Tampa, Florida, wants people to be able to pay parking fines with nonperishable food donations, Fox 13 News reports. If passed, the program would be in place during the holiday season, and the donations would likely be given to nonprofit Feeding America's Tampa branch to help feed those in need. 
A donation of one can of food would knock $1 off of a parking ticket, and those fined would be able donate up to 15 cans (or $15) per ticket in the proposed plan. Feeding America's Tampa headquarters currently feeds nearly 700,000 people every day; the parking ticket program could certainly help feed a number of those hungry bellies. 
"I think it's a very compassionate thing," Maniscalco told the news station. "It's a win-win. In 2016, it's truly pathetic that we're even discussing world hunger, or even at the local stage with all the amenities that we have at our fingertips." Maniscalco said he believes trading nonperishable food for parking tickets is a "good start" to combating the local hunger problem. 
Since the program would only take place during the holiday season, the city of Tampa would only lose about $6,000 in parking fine collections fees. That is a "drop in the bucket" compared to the $1.6 million the city generates in parking tickets each month, Maniscalco said. 
While the program sounds innovative, it's not the first of its kind. The city of Lexington, Kentucky, was the first to adopt such a program during the 2014 holiday season, NPR reported. The program, in which 10 cans of food equated to a $15 ticket cost reduction, saw much success in its first year, bringing in a total of 6,000 cans of food. Tallahassee, Florida, lawmakers implemented a similar program, called "Food for Fines," in November. 
Between late September and the end of November in 2015, the city of Albany, New York, tested its own version of these programs, in which it waived parking ticket late fees and suggested food donations in exchange. Albany Treasurer Darius Shahinfar told NPR the city received enough food to provide 5,000 meals. 
Parking tickets will never not be the worst, but perhaps knowing that you're helping feed someone in need can make them suck just a little bit less.
h/t Munchies