Beyoncé's Mom Tina Knowles Reveals the True Meaning of 'Lemonade'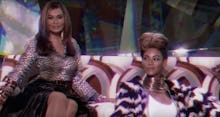 Beyoncé's Lemonade is a concoction of contemporary controversy, blending anthemic calls to action for black women with lyrics perpetuating rumors of her marriage's impending doom with Jay Z. 
But Tina Knowles, fashion designer and Queen Bey's mother, is laying to rest the idea that her daughter's latest project exists only to allege Jay Z as a reckless cheater, explaining the art goes much deeper than that. 
"People make it all about the cheating and betrayal and, yes that's a part of it because that is something you have to heal from," Knowles told ABC 13. "If you really listen to the poetry it is one of hope and redemption and hopefully that can be healing for people."
After Beyoncé's chart-topping visual album premiered on HBO in April, fans have been dissecting each of its 12 tracks line-by-line, most notably causing a stir about who Lemonade's "Becky" truly is, and whether Beyoncé was using the term as a racial slur (hint: she wasn't). But as Knowles told ABC 13, the heartache, betrayal and redemption Beyoncé sings of "could be about anyone's marriage." 
"I think that everybody at one time or another has been betrayed and lied to and it's about the pain," Knowles continued. "It's about the healing process — and it's about how do you get past that and move on."
Beyoncé's groundbreaking release hasn't done much to quell the are-they-or-aren't-they divorce rumors about the singer and her husband. With Lemonade, however, the 34-year-old hitmaker has stepped into a new arena of women's issues, specifically black women's issues, and she doesn't seem to be afraid of taking a little bit of heat to get her ladies into formation. 
Read more: With 'Lemonade,' Beyoncé Has Already Secured 2016's Album of the Year