This Simple Trick Will Eliminate the Insane Pile of Plastic Bags Under Your Kitchen Sink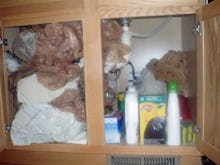 Saving and reusing grocery bags is environmentally friendly — but if you're stuffing them under your kitchen sink like many of us still do, we've got your back.
Your present:
Your future:
It's possible to neatly store all of your plastic bags in one small bowl. 
It involves basic origami and one minute of your precious time.
Here's how it's done:
Flatten your plastic bag on an even surface.
Fold it horizontally in 4-inch sections...
...Until you're left with this:
Fold a triangular corner at the bottom end of the bag.
Repeat until you're left with a pocket-sized triangle.
Tuck that stray edge.
Congratulations, you've just advanced from novice to expert plastic-bag folder.
P.S.: It doubles as a boomerang. Knock yourself out.
h/t: Dollar Store Crafts