A Long-Lasting Malaria Vaccine Might Be on the Horizon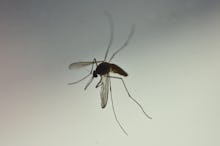 Over 400,000 people died from malaria in 2015. That number is down significantly from 2000, which saw nearly twice as many fatalities from the mosquito-borne disease, but malaria still threatens about half the global population. There's good news, though: A long-lasting vaccine for the disease may be on the horizon, a new study indicates.
"These results are really important," researcher Kirsten E. Lyke of the University of Maryland School of Medicine told the Telegraph. "Malaria has such a devastating effect on children, especially in Africa. This vaccine has the potential to help travelers, military personnel and children in malaria-endemic areas."
Read more: CRISPR Gene Editing Has Even More Potential Than We Thought, According to a New Study
Mosquitos infected with a particular parasite transmit malaria to humans, whose liver and blood then serve as parasitic breeding grounds. The disease then manifests in flu-like symptoms that aren't necessarily fatal, but can be if untreated. Using a weakened parasite strain, scientists from the University of Maryland, National Institutes of Health and researchers at biotech company Sanaria, Inc. developed a vaccine (PfSPZ) that inoculates patients against malaria for some three weeks — or so they thought. According to this most recent study, published in the journal of Nature Medicine, PfSPZ appears to protect people for as long as a year. 
The researchers looked at a group of adults between the ages of 18 and 45 who had never contracted the disease. Fifty-nine received the vaccine while 32 didn't, but all were exposed to malaria-carrying mosquitos. More than half of the subjects were immune for about a year, and according to the Telegraph, unable to spread the disease to others. 
The Centers for Disease Control and Prevention cite the "technical complexity of developing any vaccine against a parasite" as one reason why no malaria vaccine is yet available. While others are in the works, PfSPZ represents a big step toward  keeping the disease contained.