Watch the First Hyperloop Test Run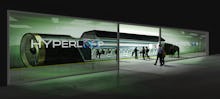 LAS VEGAS — Hyperloop One is gunning for its Kitty Hawk moment. At an event in dusty Las Vegas, Nevada, the company shot a sled at 120 miles per hour down a 58-meter-long track.
The open air propulsion test launch follows big news from the company about its plans to build a transit system that operates faster than a bullet train. Tuesday night, Hyperloop One announced at a press conference that it has secured $80 million and a series of partnerships to build the Hyperloop. The company's leader, Rob Lloyd, also discussed how the technology could be used to transfer cargo in long tubes either above or below ground. 
Take a look at the first test:
The team hopes to get Hyperloop up and running by 2020, Hyperloop One cofounder Brogan BamBrogan said at Wednesday's event.
There's competition. Hyperloop One is one of two companies competing to build this type of futuristic transit system that first entered public consciousness in 2013. The Hyperloop is a nearly airless tube system that jettisons cargo or human filled pods at over 700 miles per hour between destinations. Though the idea has been around for a while, the media seized on the concept when Tesla CEO Elon Musk wrote a blog post denouncing California's high-speed rail project and introducing the Hyperloop as a faster, cheaper alternative. In that blog post he also released a detailed description of how such a machine would work. 
Since then, two companies have emerged to take on the prospect of building and deploying the system. One company is Hyperloop One, which showed off its most recent developments on Wednesday. The other is Hyperloop Transportation Technologies, a company comprised of workers who have all agreed to contribute to the project in exchange for stock. 
Monday, HTT announced it is licensing magnetic technology from Lawrence Livermore National Laboratory to help pods levitate along the track. The company has land in Quay Valley, California, where it plans to start building a test track, but has yet to break ground.
Meanwhile, Hyperloop One is actively testing its technology in Las Vegas. 
Sorry, U.S. While this is an exciting prospect, the Hyperloop is unlikely to hit the United States anytime soon thanks to a sluggish regulatory environment. Congress may take its time developing safety standards and making other legislative paths for the technology's approval. 
Also, Lloyd tells me that from a regulatory perspective, he believes the Hyperloop is more like autonomous cars, another murky area as far as policy is concerned. "We're going to have autonomous systems that are completely connected to each other the same way cars are and  the self-driving cars we've seen on the roads of Mountain View," he says.  
But, Lloyd adds, the Hyperloop's all electric, no emissions system could motivate certain politicians to make legal way for it. Legislators in governments with big sustainability goals, like California, could be looking for technology to help meet those markers.
That leads to a question of cost. In SpaceX CEO Elon Musk's white paper proposal for the Hyperloop he estimated the system would cost $6 billion. However, critics say it's likely to cost much more. That said, the company is participating in a study with Arcturan Sustainable Cargo of Los Angeles to understand if a Hyperloop could better serve cargo ports in Los Angeles — giving hope to U.S. residents. 
Both Hyperloop One and Hyperloop Transportation Technologies are also working with organizations and local officials in Europe. In March, Hyperloop Transportation Technologies signed a deal with the Slovakian government to research a possible route in that country. Meanwhile, Hyperloop One is exploring possible implementations in Sweden and Finland. 
If all goes according to plan, Hyperloop One will do a full systems test later this year, Hyperloop One CEO Rob Lloyd said at a press conference Tuesday night, which  would propel a levitating pod 700 miles per hour inside a tube system.
May 11, 2016 4:35 p.m.: This story has been updated.