Is Kim Jong Un a Fashion Icon?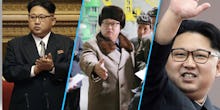 Is Kim Jong Un a fashion icon? 
The millennial leader of North Korea seized the spotlight last week holding a rare full gathering of the Communist Workers' Party. It was the first time a plenary session of the reclusive Congress had been held since 1980.  
In the pageantry extolling his Communist dystopia, however, it became increasingly apparent that the real revolution was more about style than ideology.  
Read more: Dog the Bounty Hunter Told Us His Secret Weapon for Destroying ISIS: Pig's Blood
A casual look at the landscape reveals that the world's youngest state leader has incorporated some degree of modern style into his decidedly unmodern leadership, and has perhaps influenced fashion far beyond his borders. 
"Dictators have incredible style; they generally 'go there' fashionwise," Mickey Boardman, editorial director of Paper magazine said by phone. "[Kim Jong Un] is entertaining to look at and pops visually."
Kim Jong Un is a brutal tyrant, ruling one of the most repressive regimes on Earth. His government is routinely cited by international and human rights bodies for crimes against its own people. However, style must be allowed to speak for itself. 
"The thing about fashion is you have to kind of remove it from its visual context," Boardman said.
In 2012, the Onion — a satirical website — declared Kim its sexiest man alive. "With his devastatingly handsome round face, his boyish charm, and his strong, sturdy frame, this Pyongyang-bred heartthrob is every woman's dream come true," the paper crooned. 
What wasn't satire was the fawning coverage the faux announcement received in the Communist world. In China, the People's Daily — the government's official mouthpiece — reprinted the article verbatim along with a 55-photo slideshow.
Take, for example, the exalted leader's consistent monochrome pantsuit. Though he has been known to mix it up, the full-length Maoist frock, buttoned down the middle has become one of the most enduring images of the dictator during his young rule.
"I would probably say it's a very conservative approach to fashion based on his political views in the world," Taiwanese-born fashion designed Malan Breton said by phone. "People wear clothing that is symbolic of the nature of who they are as a leader."
It's an interesting take, especially given the world's other most famous pantsuit aficionado, Hillary Clinton. When the former secretary of state and likely Democratic nominee for president slips on one of her darker tones... well, see for yourself:
In 2015, edicts reportedly went out throughout North Korea mandating that men cut their hair in the style of the leader. While that might seem arbitrary and draconian, it could have been worse. Kim sports a rather extreme version of the undercut, a hairstyle that calls for short and cropped along the sides with a longer tuft on top. 
"It is a very popular hair style and he is a younger man," Breton said. "It reminds me a bit more of the '90s band, 'Erasure.'"
From Pyongyang to Park Slope, the style is now so popular that it's unclear whether David Beckham cropped his hair to honor the leader or just couldn't resist the allure of chic.
Believe it or not, Kim Jong Un is hardly the first tyrant to embrace his inner vogue. Despots-cum-fashion plates of yesteryear have included: Congo's Mobutu Sese Seko and his leopard hat, Zimbabwe's Robert Mugabe and his bold reintroduction of the "Hitler mustache," and the full Napoleonic revival of Jean Bedel Bokassa from the Central African Republic.
However, for the world's second most famous Kim, it's less the clothes than the ownership.   
"He's excited to be wearing what he's wearing. He's excited to be doing the things he's doing," Boardman said. "[This is] a huge part of it is his expression. There are pictures of him really smiling."
There may not be a Korean translation for yaasss  — but if anyone is working on it, it might just be Kim Jong Un.