These Hand-Painted GIFs Show Donald Trump as You've Never Seen Him Before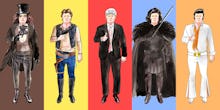 As The Real Housewives of New York's Countess LuAnn de Lesseps taught us all with her 2010 anthem: "Money Can't Buy You Class." And if you're Donald Trump, despite owning his own collection, it also can't buy you a sense of how to dress. As Mic previously pointed out, the Donald doesn't know how to wear a fucking suit.
It's not something the presumptive Republican nominee gets clocked for all too often. As the Washington Post pointed out, "[Trump's] known for a swaggering businessman's style that offers little in the way of a statement on personal aesthetics or even rareified taste." And thus, when attempting to lay into Trump's looks — as he is wont to do of his dissenters — many are left without a hefty zing beyond the obvious: his cantaloupe complexion and his ne'er-be-tamed hair.
Read more: Donald Trump Really Cares About Women's Skin — Like Really, Really Cares
Sure, his suits aren't expertly tailored (as one might expect) and his ties are Dumbo-esque in their billow down from his chin, but Trump's aesthetic, on the whole, might be his least problematic trait.
So we decided to fix that.
From, Game of Thrones' Jon Snow to a necessary Prince throwback, we've given the Donald the makeover he never asked for, outfitting him in some of the most famous looks from pop culture (and yes, we included Divine from Pink Flamingos). Without further ado, enjoy Donald Trump like you've never seen him before.
Paintings by James Skarbek of @Jimmyillustrated / Animations by Tri Vo.