West Virginia Democratic Primary 2016: Latest Polls and What to Expect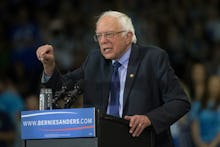 One week after upsetting Democratic frontrunner Hillary Clinton in the Indiana primary, Bernie Sanders may notch yet another victory on Tuesday, as voters head to the polls in the West Virginia primaries.
Eight years after she defeated then-Sen. Barack Obama by 41 percentage points in the Mountain State, polls show Clinton at risk of losing the state to Sanders, who's won over many of the white, working class voters who flocked to her 2008 candidacy.
Read more: Here's the Number That Objectively Proves Bernie Sanders' Presidential Campaign Is Over
Badly damaged by recent comments suggesting she'd shutter coal mines, Clinton's popularity has taken a hit in the state, which historically backed Democrats in national elections but has lurched sharply to the right as the politics of climate and energy have grown increasingly polarized.
Sanders is no more pro-coal than Clinton, but his populist economic message has resonated with Coal Country's working-class whites still belonging to the Democratic Party.
According to the RealClearPolitics polling average, Sanders boasts a 46% to 40% lead over Clinton heading into Tuesday's balloting. A win won't rescue his fading campaign, however. A scant 29 pledged delegates will be proportionally allocated in West Virginia, and Sanders must win 86% of the remaining delegates up for grabs to secure the 2,383 delegates needed for the nomination.
Still, a Sanders victory on Tuesday would be a good sign for his chances in another Coal Country state, Kentucky, where voters head to the polls on May 17. That same day, Oregon voters will have their say, and Sanders is likely to receive a boost from the state's progressive tilt and the support of Sen. Jeff Merkley.
Will West Virginia be part of a May win streak for Sanders? We'll find out after polls close at 7:30 p.m. Eastern.