Rihanna Is Funding Scholarships for International Students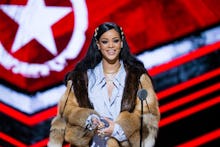 Always wanted to learn Rihanna's ways? Now she'll help fans to do just that — or simply to learn, period. As the Barbadian singer announced in a Monday morning Instagram post, her Clara Lionel Foundation will fund scholarships for international students to attend college in the United States.
"I'm very honored to announce the launch of the @ClaraLionelFDN's Global Scholarship Program today!!! Congrats to the class of 2016!!!" the caption on her picture read.
The scholarships are open to students from Brazil, Barbados, Cuba, Haiti, Grenada, Guyana and Jamaica. To qualify, they must be citizens or natives of any of these countries, eligible for financial backing, accepted at a four-year college or university in the U.S. and enrolling as a freshman for the first time. 
The scholarships "may be renewed for up to three additional years or until a bachelor's degree is earned, whichever occurs first," providing students with between $5,000 and $50,000 so long as they continue to meet certain standards, like maintaining a 2.5 grade point average.
Interested in having Rihanna as a benefactor for the 2016-2017 school year (and potentially beyond)? Applicants should upload their official transcripts, a copy of their college acceptance letter and this completed form to Scholarship Management Services by 1 p.m. Central on June 10. 
If your grades are good, you've "demonstrated leadership," are involved in extracurriculars, have academic aspirations, come from "unusual personal or family circumstances" and have experience going to work (work, work, work, work), Rihanna just might take you on.
Read more: Rihanna Is Launching a Diverse Makeup Line with LVMH 
h/t Elle