Panama Papers Database: How to Search All the Names Tied to the Mossack Fonseca Leak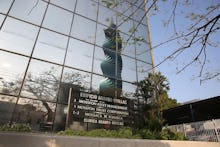 The International Consortium of Investigative Journalists' database of the Panama Papers, a massive data leak that blew the lid on shady corporate offshoring practices at Panamanian law firm Mossack Fonseca, is now accessible to the public.
A searchable archive of the papers came online at offshoreleaks.icij.org on Monday afternoon. The database includes some "200,000 shell companies, foundations and trusts set up in more than 20 tax havens around the world," many of which are tied to unethical or illegal financial practices, the BBC reported.
Navigating the site is a simple query-based process with search results showing financial ties between various shell companies and their registrants and operators.
The original publication of the papers implicated dozens of high-ranking world leaders — including Russian President Vladimir Putin and Icelandic Prime Minister Sigmundur Davíð Gunnlaugsson, who has since left office, as well as officials at organizations like FIFA — in a web of financial misconduct ranging from tax evasion to bribery and profiteering. With the database available to the public, many are now searching for potential links to other high-profile figures.
For example, associates of presidential candidates Donald Trump and Hillary Clinton have both appeared in searches for Mossack Fonseca's U.S. clients.
The ICIJ warned in a notice to web users arriving at the new site, that just because someone appears in the database does not mean they committed a crime.
"There are legitimate uses for offshore companies and trusts," the ICIJ wrote. "We do not intend to suggest or imply that any persons, companies, or other entities included in the ICIJ Offshore Leaks Database have broken the law or otherwise acted improperly."