Loretta Lynch Just Announced the DOJ Is Suing North Carolina Over HB2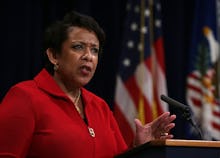 On Monday afternoon, the Department of Justice announced it would sue the state of North Carolina, just hours after Republican Gov. Pat McCrory said the state would launch its own lawsuit defending the state's increasingly tendentious HB2 "bathroom bill."
Last week, the DOJ announced HB2, which prohibits trans people from using any public bathroom that does not match the biological sex listed on their birth certificates and preempts all anti-LGBTQ discrimination ordinances in the state (among a host of other odious changes), violates the Civil Rights Act of 1964. Federal prosecutors now intend to bring the state to heel and force compliance with their understanding of the law in court, asserting the law violates Titles VII of the Civil Rights Act, Title IX of the Education Amendments of 1972 and the Violence Against Women Reauthorization Act of 2013.
The lawsuit for the state of North Carolina argues the DOJ enforcement effort is "a baseless and blatant overreach" and "an attempt to unilaterally rewrite long-established federal civil rights laws in a manner that is wholly inconsistent with the intent of Congress and disregards decades of statutory interpretation by the courts," reported Politico.
According to the Charlotte Observer, outside of a relatively small pool of conservative analysts, most legal experts expect the DOJ to win.
"For any federal district judge, I think this conclusion is virtually inescapable," Charlotte School of Law employment specialist Brian Clarke told the paper. "As a result, I think this lawsuit will be short lived in the district court and is unlikely to lead to anything but a loss for Gov. McCrory."