Gwyneth Paltrow's 'Goop'-Approved Sex Life Would Cost You More Than $25,000 IRL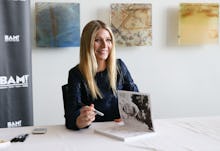 Gwyneth Paltrow's newsletter/organic lifestyle cult Goop has just released its much-anticipated sex issue.
Turns out Goop sex (not to be confused with group sex) is pretty much everything you'd expect it to be: all-natural, holistic, New Age-y and — of course — wildly expensive. From condoms to sex toys to lube, Goop manages to turn all aspects of sex into high-end expenses on par with stuff like mortgages and college tuition. They even found a way to make Kegel exercises cost $200.
So how much would it cost to have the ultimate Goop sex experience? Let's do some window shopping and find out!
Vibrator: $15,000
The biggest indicator of the cost of Goop sex can be found in its roundup of recommended sex toys. Goopers (Goopies?) looking for a new vibrator are pointed in the direction of the LELO INEZ, which comes in either stainless steel or 24-karat gold and costs $15,000.
Whip: $535
Obscenely wealthy housewives who loved Fifty Shades of Grey will be delighted to learn that Goop's version of BDSM involves paying over $500 for some leather from Agent Provocateur. For reference, this similar whip from SpicyLingerie.com — a website — costs $20. Or you can just, like, go to Michael's Crafts and make your own damn whip for $1.50. 
Trip to Sex Club: $10,000 - $50,000
Goop's sex issue features an interview with the founder of Snctm, a members-only "erotic theater" thing, which basically sounds like a secret society for rich, horny weirdos who happen to be attractive. The Snctm website keeps a v. tight lid on its inner workings and membership dues, but Goop reports that membership can cost anywhere from $10,000-$50,000.
"Everyone who attends a Snctm soirée, be it a masquerade, pool party, class or dinner must first apply on our website," founder Damon Lawner told Goop. "I look at aesthetics of course, and the answers to our questions are important determining factors. If I believe the applicant would be a good fit for our society, and enhance the experience of our current members, I approve the application and it moves forward to the next phase."
Ass Pics: $59.95
Mortals might use Snapchat and/or internet porn to look at nudes, but a true Goopie knows that internet porn is probably filled with carcinogens. Which is why Goop recommends this book of ass pics to its readers for $59.95.
Pelvic Floor Trainer: $199
Lots of women strengthen their pelvic floor muscles by doing boring (and free) Kegel exercises, which basically just entails contracting your pelvic muscles. But Goop offers a solution for people who'd rather spend $199 on a foreign device called the Elvie (which Mic has written about before).
"Elvie makes an exercise that used to be boring and difficult into a fun, five-minute workout," creator Tania Boler told Goop. "The force and motion sensors inside Elvie measure pelvic floor muscle movement, and the app allows you to visualize the exercises in real time."
Nipple clamps: $395
Back to that wealthy housewife going through a kink phase. She needs these organic vibrating nipple clamps that also double as a necklace. Side note: Let's pause here for a second and just take a moment to imagine. Imagine being able to afford Goop sex.
Lube: $2,489.76
To answer the question, "Is lube toxic?" Goop did an in-depth Q&A with "naturopathic" doctor Maggie Ney. She was basically just like, "Yes." Something about parabens and toxins and blah, blah, cancer, blah, gobbledygook, goobbledyGoop.
"When it comes to lube, if it is safe to eat, it is generally safe to apply," Ney told Goop. "If a lubricant is needed, I recommend organic coconut oil, olive oil, aloe vera gel, or almond oil — they are free from preservatives and are safe alternatives to conventional lubricants."
Plenty of people probably already have these relatively inexpensive items lying around the house, but I'm assuming a die-hard Goopie would probably opt to buy some special olive oil for their next sexcapade. Like this Bionaturae EVOO (431 pounds of it!) — available on Amazon for only $2,489.76!
Estimated grand total for a night of Goop sex: $28,678.71 - $68,678.71
So in conclusion, either Goop readers have the most delicate and high-maintenance human genitals ever created, or Goop is just trolling poor people for fun now.