Yacht Had the Best Response to Their Sex Tape Being Leaked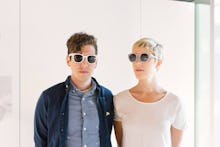 The Portland-based indie band Yacht has been releasing videos for their quirky synth pop music for over 12 years. The band's leaders, Jona Bechtolt and Claire L. Evans, have had full control; they've crafted each video to entertain their fans and bring them into their oddball world. 
Recently, however, a video that they never intended the public to see — a private sex tape — was published online without their permission. But instead of trying to sweep the matter under the internet's proverbial rug, the band decided to confront this violation head-on.
Read more: Google Is Doing Something About Revenge Porn That It Should Have Done Years Ago
They used their Facebook page to ask fans not to participate in the violation of their privacy, instead turning it into an opportunity for empowerment.
Taking lemons and making lemonade. The post describes what happened: Bechtolt and Evans have been romantic partners since 2006. They made a tape, and someone got access and published it. But instead of justifying their initial choice to make the tape, the couple focuses on how they have felt watching their intimacy get exposed.
"We feel like art is an act of generosity," they say in the post. "The art we make for the public is for that [express] purpose. And now we're in an awkward situation where the art that we made for us and us alone is being viewed by anyone who has the inclination to hit play — a true and humiliating blurring of the public and private."
The post explains this leak was not intentional in any way. The pair says they've "commenced legal proceedings" against the "morally abject person" who released it. But now that the post is out in the world, the couple doesn't plan to let themselves be cowed into accepting their fate as the hottest torrent in town. They're going to make some money off this terrible situation.
"This video is out there now. We can't change that. But we can try to be 'as YACHT as possible' about it and take some kind of ownership over what has happened," the band wrote in a comment to the original post, calling it their "Lemonade." "So we're asking you one thing: If you feel like you 100% have to see this tape, don't stream it on some tube site, or download a torrent. Instead, we beg of you to download the video, Louis C.K.-style, directly from us."
It's a last-ditch effort to gain some agency, and the fan response is enthusiastic. Yacht has been getting a flood of feedback on Facebook. "This too shall pass, and we support and love you!" one commenter wrote. "You have always held such integrity, you didn't lose any of that integrity today." 
Twitter was also filled with support.
Unfortunately, Yacht's case is an exception when it comes to revenge porn. Many people in Bechtolt and Evans' position don't enjoy this kind of agency after the fact. Only 31 states have laws in place to deal with revenge porn cases, according to the Cyber Civil Rights Initiative.
The best fans can hope for is the tape has its 15 minutes, like the rest of news on the internet, and viewers will move onto fair content to its creators and its subjects. But the way Bechtolt and Evans handled themselves that day live on.
May 10, 2016, 1:50 p.m.: Jezebel is now reporting that this release was a hoax that they had been planning for months. Mic has reached out to the band's reps again to confirm. Read more about the details of the alleged hoax and the reaction so far here.
May 10, 2016, 3:34 p.m.: Yacht has sent a statement to Mic. We've reproduced it in full below and it can now be seen on the sex tape's original site: fuck.teamyacht.com.
TUESDAY, MAY 10TH 2016
May 11, 2016, 1:40 p.m.: Yacht has posted a second statement on the hoax, this one to their Facebook page. In it, they address their "shitty non-apology yesterday," as they described it, saying: "There's no justifying it. We clearly didn't get it then. We get it now." 
Read it in full below.