Black Gay Men Schooled 'Out' Magazine on the Real Origins of Mainstream Gay Trends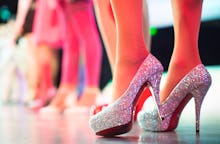 Gay media is still so white. And it's also so straight and unwilling to acknowledge where mainstream gay culture comes from — people of color. 
An article about the many ways straight people steal from gay culture published Monday in Out drew the ire of many black gay men online. In the essay, "Straights Always Steal All the Gay Trends! Make It Stop!" cultural critic Michael Musto chides straight people for encroaching upon everything gay men hold sacred: gay slang, drag culture and gay piano bars. 
After Musto's piece surfaced online, black gay men on Twitter criticized Out and remind Musto, and anyone reading, that what he considers mainstream gay culture actually has its origins in black gay culture. 
The most outspoken critic of the piece was Brandon Taylor, a 26-year-old biochemistry graduate student at the University of Wisconsin. He spoke to Mic about the article, his series of tweets and what he hopes to see change in the gay media landscape. 
Taylor critiqued the article's lack of nuance in analyzing cultural trends. Taylor said he would rather read about the "history of white gay men co-opting black gay culture and giving very little credit to black culture." See: Yaasss! 
In the essay, Musto calls gays an "oppressed minority" — but fails to realize that mainstream gay culture appropriates culture from marginalized communities, especially gay black men and transgender women of color, within the LGBT community.  
"I wanted to call out the irony of white gay men saying straight people are stealing their culture, when in reality it's not their culture," Taylor said. 
Musto ends his article by admitting that much of what we consider gay culture is actually stolen from black gay culture: "But of course," Musto writes, "there have also been articles saying that, in actuality, gays happen to steal a lot of trends and lingo from African Americans. So....never mind!"
But, Taylor says, the final line is too much of a tongue-in-cheek joke instead of a springboard for a more accurate analysis.
"Why is the article about straight people stealing from queer people, why not write the takedown of white people stealing from black people?" Taylor asked. 
By the time Taylor's self-described "rant" gained steam, he said he was no longer focusing on just Musto's article. He wanted to shine a light on racism and hypocrisy in white gay culture. 
"I had moved onto this set of gay white men who love to twerk at parties but won't go on a date with a black man," he said. "Or a man who puts on a Beyoncé tank top, but don't show up for black queer people."
Discussions around Musto's article continue a recent debate regarding racism in gay media. When the hashtag #GayMediaSoWhite surfaced in March, it exposed a rift between what the gay community actually looks like and how it is portrayed in LGBT media. We now know that Out and Attitude feature straight white men on their covers more than LGBTQ people of color. 
After the #GayMediaSoWhite conversation, Attitude put straight, white man Ben Hardy on the cover of an issue featuring a special report on race in LGBT media, while Out chose straight white singer Nick Jonas to cover its LGBTQ Pride Month issue. 
"[Gay media is] so white and it's so heterosexual, which is the strange thing," Taylor said. "All this cover space to straight, fit dudes who tell us the time they may have kissed one of their male friends." 
Musto's article falls into the same trap that snares the rest of gay media. Rather than discussing issues within LGBT communities — Musto decided to talk about straight people. And it is a real shame because, if Musto, a white man, began to talk about racism in the gay community, perhaps some people would listen.