Spinal Muscular Atrophy Won't Stop Ethan Och From Playing the Drums Like a Boss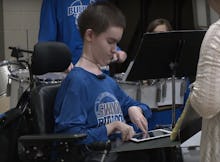 Ethan Och is using technology to overcome a disease attempting to take away his passion to make music. After his spinal muscular atrophy, a genetic disease that ultimately leads to loss of nerve cells in the spinal cord, progressed in high school, the 18-year-old Minnesota teen thought he'd never be able to play his instrument again, as the range of motion in his arms decreased along with their overall strength. 
Och's range of motion and overall strength in his arms had declined due to the disease, and the college-bound student thought he'd soon have to retire from music after using the lighter aluminum drumsticks he switched over to slowly became just as difficult to use as the traditional wooden ones. 
"Rhythms were getting too hard for me to play on a snare drum or a bass drum," Och told St. Cloud Times. "I wasn't able to keep up, so I thought I had to quit. But then we ended up finding an answer, kind of by accident."
But thanks to a world of technology, a plethora of apps and one teacher who refused to give up on her student's passion for music, Och is keeping up with his marching band by playing the drums on a tablet, equipped with a car battery and amplifier.  "I don't believe in 'I can't,'" Gina Christopherson, his former band teacher, told USA Today. 
The music teacher tested about 75 music making apps with Och to find which could help contribute to the sound of the band, matched it with just the right amp, equipped her student with a tablet provided by the school and has a fellow peer carry the tech in a stroller alongside Och's wheelchair. "He's part of the team, you don't leave somebody behind." Christopherson said.
As the valedictorian of his school, Och will be heading to the University of Minnesota to study computer science or engineering — and hopefully bringing his digital drumsticks with him.
Read more: This Quadriplegic Woman's Humorous Makeup Tutorial Shows Different Side of Disability